FOR PERSONAL REASONS, I AM CLOSING THIS SITE. I WOULD LIKE TO SELL ALL THESE COSTUME PIECES TO MAKE ROOM FOR MY ART STUDIO. PLEASE PASS THE WORD TO ALL YOUR DANCE FRIENDS. I WILL GIVE FURTHER DISCOUNTS TO THOSE WHO BUY IN BULK. >Many people have asked where I get this great stuff! I am fortunate to live between a Middle-Eastern neighborhood and an Indian neighborhood. Like most immigrants to this country, many of my neighbors are trying to look less ethnic, so they are getting rid of their beautiful exotic garments and jewelry! That's when I come along! I have an "Eye" for exotica, and pounce on the choicest pieces that would appeal to belly dancers. THESE ITEMS ARE ONE OF A KIND, SO THE PERSON WHOSE PAYMENT IS RECEIVED FIRST GETS THE ITEM! Because of this, please choose alternate items if possible. Most items are used, but in excellent condition. Pictures available for some items.
This is the 15th year of my costume yard sale!
***RECYCLED COSTUMES, JEWELRY, AND PACKAGING...SAVE OUR PLANET!***
"DANCE IS THE ONLY ART FORM WHERE THE ARTIST IS ALSO THE MEDIUM OF EXPRESSION"
* * * * * * * * * *
SPECIAL OFFER! For those who can't decide: I will match an entire bellydance costume for you. All I need is your skirt length, bust size, and color preferences. COSTUME consists of 1 choli, 1 skirt, 1 scarf, 2 pieces jewelry, and 1 coverup, for only $25.00 (plus postage).Try it!
* * * * *
An Indian dancer doing one of many barrel turns! Her costume must have weighed 20 pounds.



MY FAVORITE QUOTES FROM HAPPY CUSTOMERS:

"You make looking like a beautiful dancer so affordable!"Cherie Smith, Montana

"I was so glad to see the package in my mailbox yesterday and then thrilled with the surprise musical bracelet! I'm very thankful. Wish me luck at my recital. I'm starting to get nervous, but feel the jewelry will boost my overall self-esteem." Bethany Karn, Md.

"Wow! I'm getting a ton of new stuff for next to nothing!Yippee!" Laurie Seim, Wisconsin

"...the bargain of the century! I'm gushing I know, but you must know how elated I was the whole evening after opening that box!" Anne Lobdell, Illinois

"I showed the goodies to the troupe last week and they went berserk! Such unladylike grabbing and squealing- needless to say that was a sign of approval!!"Kazsimir, PA.

"I went to the fabric store yesterday with skirts in mind, but after buying the fabric, it gets expensive. I thought to myself,'I can get ready made skirts or even the fabric so much cheaper on Lindia's site!'"Bonne Campbell, CO.

" I got one package Sat. and one yesterday...how much fun! I love it, and you sent me some GREAT fabric scraps! Thanks for the suggestions on how to make a choli, etc. You are very helpful!"Rachel Ivy Heilman, N.C.

"My order came in the mail yesterday(already!) and I am thrilled! The things were even more beautiful than they were described, and the pictures and handouts were a thoughtful inclusion. The package even smelled exotic! It was fun to look through everything, and I can't wait to surprise everyone at our next practice! You'll definitely be hearing from me again. " Asherah, OH.

"Thanks for sharing your luck with those of us out here in the wilderness!" Pat Collins, Alaska

"Hey! I got everything today, feel like a kid at Christmastime!!!!! What wonderful things! Thanks sooo much for getting it to me so fast." Tonya Bragg, Louisiana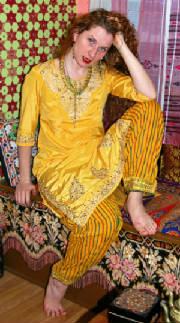 Small yellow tunic with gold embroidery$6.00
I have been seeing tunics similar to these,in many popular fashion magazines and catalogs, for many times the price of mine: $5.00 to $7.00! So what if mine aren't designer names! See "Exotic Costumes" page.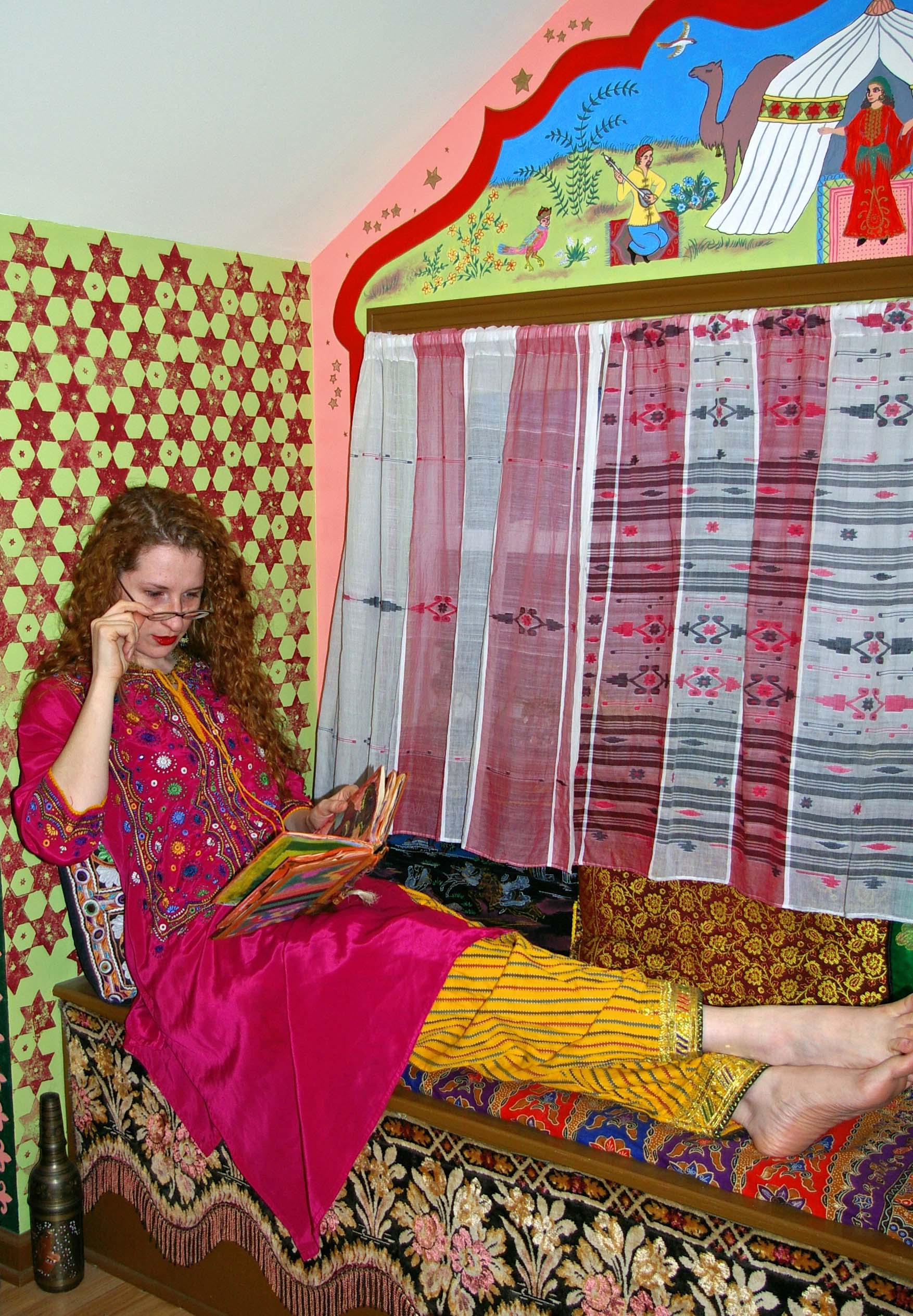 I have raspberry colored tunics in small, med., & lg. $7.00 Anastasia wears them to school.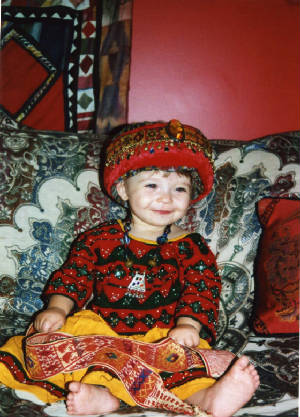 Abigail admires the textile collection at the Museum of Enlarged Persian Miniatures. She likes dressing exotically!