Incidentally, many of the following scarves will keep your neck warm in winter!These pieces can also be used as fabric for making costumes.
Veils:
Bandhini bonanza: lots of new bandhini veils!
Exquisite black Bandhini veil, heavy with Shisha mrrors! Easy to turn into a caftan or other garment (ask for instructions) $12.00 photo above
Rust rayon Bandhini42"x84"$3.00
Black with red edge rayon Bandhini$5.00
Solid Off-white chiffon 3yds.x 45" $8.00
See "Exotic costumes" page for Saris!
"THANK YOU!!! WILL HAVE MUCH FUN PLAYING WITH EVERYTHING AND THE COLORFUL SCARVES WILL LOOK GREAT ON MY BASIC BLACK TURBAN!" -KARI ESPELIEN, COLORADO
Black square with beaded fringe and shisha $6.00 photo below
Genuine Indian turban wrap: pleated band with red and blue woven geometrics.56"long. $3.00
Green or Golden triangular crocheted sparkly sequinned, fringed hip shawl or head wrap $12.00
Sheer dk.red with black Ikat , or same colors not Ikat but sequins$6.00
Sparkly Purplish blue paisley 45"sq. $6.00
Multicolor check rectangle with fringe,good for trimming turban $2.00
Pink silk, fringed, embroidered square headscarf $3.00
Really nice ethnic scarves with shaggy fringe:peach,or multi.Ikat.$250.00...just kidding, $2.50
Turquoise paisley 28"sq. $2.00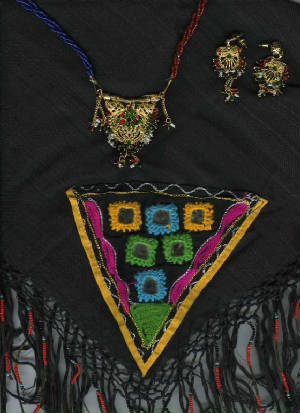 Black fringed Shisha scarf $6.00 Indian necklace SOLD